This article explains how to open and search multiple .pst or .ost files without Outlook at once. Any .pst or .ost file (archive, password protected or encrypted) can be searched together with any others. This means that if you're searching for a sensitive email, private contact or calendar item, but you're not certain which file or account you put it in, you'll be able to find it easily with a single search.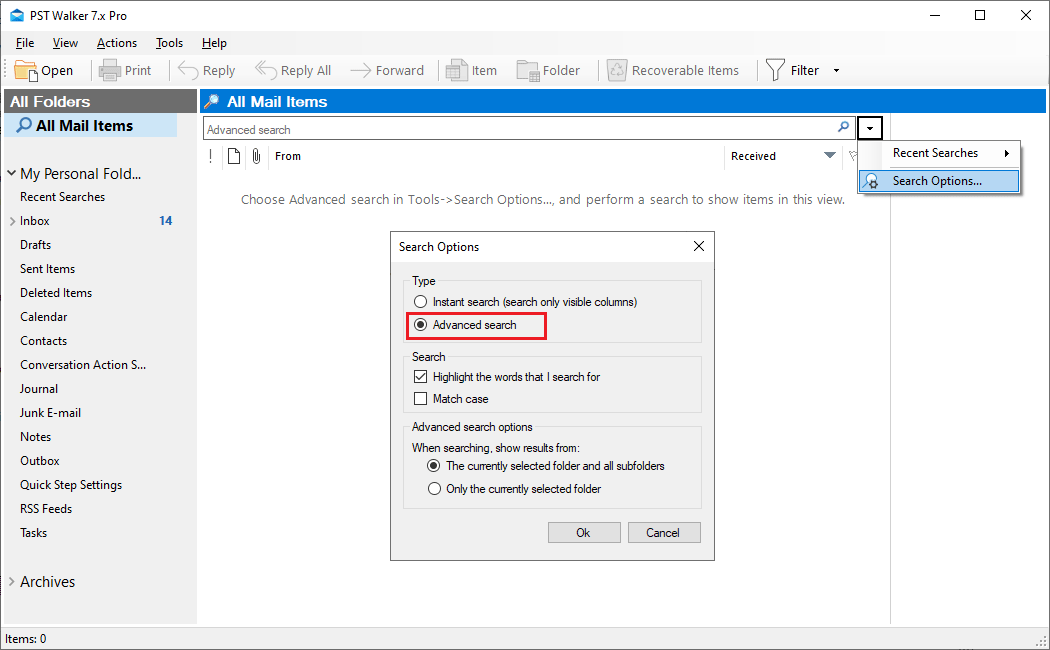 PST file search tool
Open PST Viewer (pstwalker.exe), make sure that .pst/.ost data files that you want to search are open (if they are, you'll see them all in the All Folders Pane). Select All Mail Items as the location for your search, choose Advanced search option and then type the search criteria that you want to search.

Features
Immediate results


Review highlighted keywords so you don't need to looking for the search criteria.

Search multiple words


Pinpoint searching using the boolean operators and functions (AND, OR, NOT, ALL, ATLEASTONE, NEITHER, NOTALL, ?, *).

Fast multi-threaded searching


Highly efficient search algorithms mean that you spend less time waiting for results.

Printing and Exporting


Share your results with others using the printing and exporting features.
If you have many .pst files open, or if you have a few really large .pst files open, it may take a while to search for messages.
Filtering and sorting .pst files search results
Sort your search results and filter using the Quick grid view search or an Excel-like filtering interface.

1. Quick grid view search. Search text in the visible grid columns and draws a highlight box around any substring that matches its given text.

2. An Excel-like filtering interface. Right click on a column's header, a "Filtering" menu item will be presented. This will let the user select one or more distinct values from that column. When click "Apply", only those rows that have one of the chosen values for that column will be displayed.